TCYC Youth Committee meeting - Vancouver, BC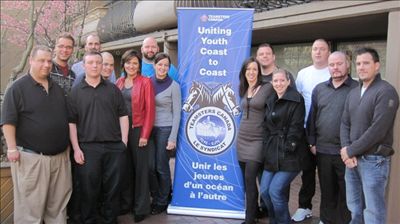 TCYC Members in Vancouver, BC (Feb 9, 2011)
On February 7th, 8th, and 9th, the Teamsters Canada Youth Committee (TCYC) met in Vancouver, BC. At this meeting, the Committee met with Stan Hennessey, President and Don McGill, Secretary-Treasurer of Teamsters Local Union No. 213 (in Vancouver). The members of the Committee also continued working on their Action Plan. This plan outlines the Committee's initiatives and goals. The action plan was completed and the Committee members picked three tasks that they are going to focus on:
1) COMMUNICATE: Get the word out about the TCYC;
2) UNITE: Be more visible in the Union and in the community;
3) EDUCATE: Create a pamphlet to inform Union Members.
Since we've back home, each member has been actively working on these new objectives and progress is apparent. We are working hard on becoming known and hope that these projects will help. If there are any events or causes in the Ottawa area I can help out with, please do not hesitate to contact me. Also, if you are a Teamsters Youth, and are interested in donating your time by participating in events and causes where TCYC will be, please let me know and I will contact you.
I am always open to your questions and concerns, so please do not hesitate to contact me by email.
Kate Alarie
TCYC Member
kalaire@teamsters91.ca
More Information:
TCYC June 2011